At Giraffe Insights, we are dedicated to helping brands stay connected with kids and families particularly during these unprecedented times. In 2020 we kept our ear to the ground to bring you the latest insights from lockdown, helping you keep track of trends and changes. However, we must also look forward to the future in order to stay ahead of the game. So what have we learnt from 2020 and what does this mean for 2021?
2020: The pandemic ushers in the year of family time, connected TV and online shopping
Family came first:
Nearly a year since we first entered a national lockdown, families across the UK experiences a drastic change in their daily routines and lives. Social restrictions, schools closing and working from home meant that as a nation we either spent more time with our families than ever before or had to learn new ways to stay connected with loved ones from afar. Either way, the importance of family time in 2020 could not be missed. This was evident in the way we spent our time, from the way we consumed content to the purchases we made: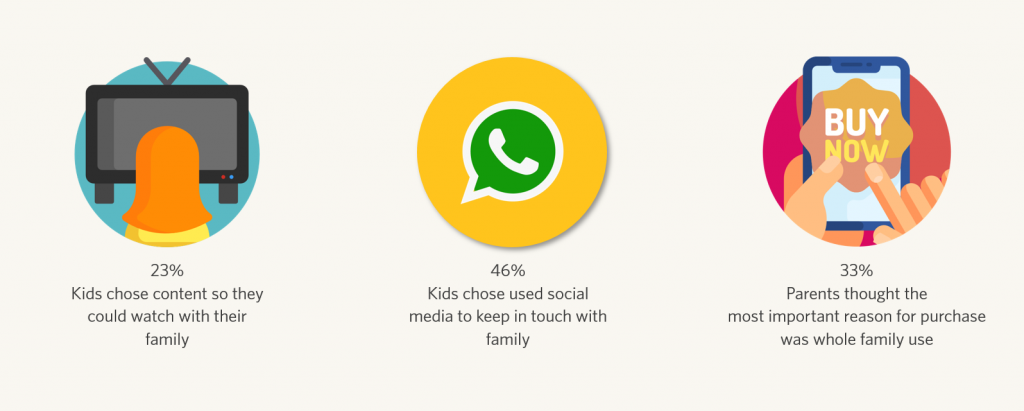 The acceleration of viewing trends:
With more time spent indoors, content consumption increased with increasing pressure to stay entertained. This resulted in the acceleration of viewing trends, with the growth of subscription video on demand (SVOD) platforms such as Netflix and Disney+. Edutainment shows and movies were top of the streaming lists, satisfying parents need to keep their kids educated and entertained as the school gates closed as well as providing key family time moments. 7 in 10 kids watched more educational content during lockdown compared to 2019 with 59% also consuming more movies than ever before. Despite the shift towards SVOD, the TV screen remained the key way to watch thanks to connected TV's allowing for that at home cinematic experience!

The shift to e-commerce:
Not only did we spend more time indoors, but our wallets also spent more online. E-commerce saw a boom during the pandemic, with families becoming more reliant on online shopping platforms as the high streets shut their doors. 8 in 10 parents shopped online during lockdown, with nearly half completing all of their Christmas shopping via their laptop screen! Window shopping became online scouring, with the shift to online looking to stay…
…So here's to 2021: The year where we remix the routine!
Over the last year kids and families have formed new behaviors that are likely to remain even if the pandemic doesn't. Here's what we predict 2021 has in store for us:
Family time remains important:
With the future looking bright as vaccinations roll in, the easing of social movement and lifts on restrictions will allow people to connect with extended family and friends once again. For many, the first port of call will be to spend time away with their loved ones outside of home. Two thirds of people want to see friends and family as soon as restrictions end this year with nearly a third eager to book a family holiday! The pandemic brought to the forefront the importance and privilege of being able to spend time with each other, something that as a nation we most likely will not take for granted again. Families will continue to seek opportunities to spend time together in new and fun ways, whether that be through holidays, activities or the TV screen!
SVOD will dominate but Live TV is here to stay:
We have tracked over the last 3 years of our 'Kids and the Screen' research the rise of SVOD and the decline of live TV, and lockdowns impact on these viewing trends. Although we predict that SVOD platforms will continue to grow from strength to strength, live TV will likely plateau keeping a strong foothold in the viewing landscape:

We know advertising resonates the most via the TV screen, meaning live TV will stay play an important role in reaching audiences at home. However, it is the role of online which must have an eye kept on it as it interestingly has begun to see a decline in viewing…
The high-street re-imagined:
Despite E-commerce giants such as Amazon and EBay seeing a boost in sales and people relying on online shopping, there is still a strong desire for in-store experiences. When shop doors re-opened in the winter of 2020, we saw consumers return to their favourite brick and mortar stores with product experience and the ability to support local business key to driving the on-foot traffic:

In order to keep their doors open and baskets full, high street stores will need to re-imagine their role in the consumer journey in order to stay relevant amongst growing digital and online behaviours. Understanding where the in-store experience cannot be replaced by online shopping will prove essential to the longevity of the high-street.
2021 will be a year of seeing ritual behaviours with a slight twist and with a need for a new lens as we navigate life through and out of the pandemic. To welcome in the new year, we will be releasing these insights plus many more in a complimentary insights guidebook so you can stay on top of the ever-changing kids and family's world. To find out more or to access the guidebook please get in touch!