We have launched brand new research as part of our international initiative that looks at family viewing, across 9 European markets and surveying over 3,500 kids and parents.
Our study found that Covid-19 has been significant in accelerating existing trends towards digitalisation. Over half of all kids, across all 9 markets, now regularly access video content online (56%) and via on-demand services (56%). Kids in major European markets including the UK, Netherlands, Germany and the Czech Republic are now more likely to watch a video on demand or online, than on live TV.
The UK is the closest to a totally digital future with two thirds of kids watching video content via on demand services, such as Netflix, Amazon Prime and Disney + and over half also watching content through online platforms such as YouTube. This contrasted with the fact that less than half of UK kids said they had watched content live on the TV channel in the week prior to this research being conducted.
In markets such as the Czech Republic, online viewing is booming, with almost two thirds of kids viewing online video content. Even in more traditionally linear dominant markets such as Poland and Italy, online videos now make up a significant proportion of their weekly content intake.
However, it's not all doom and gloom for non-digital channels with TV still being king for inspiration. TV adverts and shows are still kids' top source of inspiration across Europe for Christmas gifts (48%), surpassing YouTube ads/videos (37%), shops (35%), friends (29%) and online searches (24%).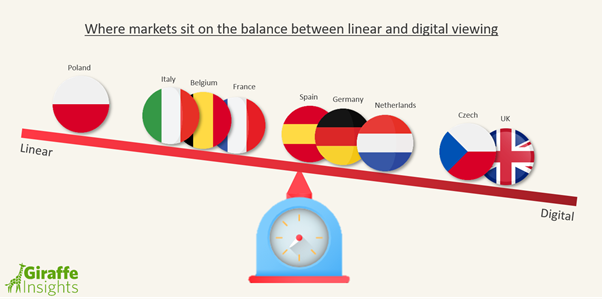 With kids viewing evolving and Covid-19 only accelerating these behaviours it is crucial brands stay on top of trends to most effectively reach and engage their audience. Understanding what this looks like both at a global level but also at a market level ensures no one-size-fits all approach is adopted, and strategy is relevant and impactful. This international media study cuts through the noise, spanning across 9 different territories, surveying kids aged 1-12 and providing the true picture of what's happening right now with kids viewing.
The Critical Media Point: An international media study among kids and parents
This research was conducted with 3,500 kids and parents across 9 markets – UK, Germany, France, Poland, Italy, Spain, Belgium, Netherlands and Czechia. For more information about this research and our expertise please contact: [email protected]