A royal stamp of approval
At the start of the month the news that the Duke and Duchess of Sussex had signed a multiyear deal with streaming giant Netflix was released. As part of this deal they want to create inspirational family and kids programming.
With this in mind, we look to Netflix and where it stands in the UK market today among kids and families and why deals such as these are increasingly important in order to maintain its position within the space.
New platforms have increased the competition
As a result of an increased need for 'family time' over the past few months, we have seen some real winners in the kids and family content space. With Disney+ making a timely release as we entered lockdown it provided families with exactly what they wanted at this time – new and fresh content that they can watch together.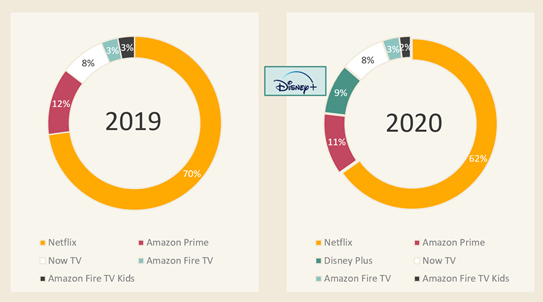 Through speaking with kids and parents, we know that Disney+ satisfies a different need to streaming giant, Netflix. Whilst Netflix is often watched independently by children, with episodes of shows as favourite content, Disney+ is watched more by the whole family and primarily for films.
Whilst both platforms are tapping into kids' adoration for cartoons and animation, Netflix is currently serving the pre-school market more effectively with hit shows such as Cocomelon and Little Baby Bum driving this success.
It is these differences which will enable the two platforms to co-exist and complement each other in the world of kids and family content.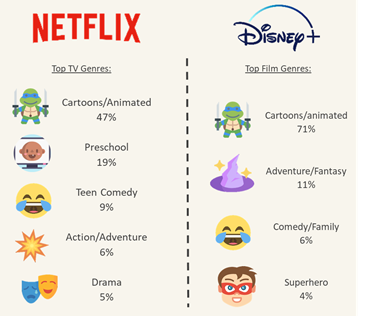 Is there room for everyone long term?
Kids will ultimately go where the content is, using their viewing ecosystem to satisfy different needs throughout the day. They are largely platform agnostic, seeing each as an extension of their ever-growing channel list, navigating seamlessly through connected TV.
SVOD forms a substantial part of this viewing ecosystem as one of the favourite ways to view for kids and families. As we have seen, currently Disney+ and Netflix can co-exist, complementing each other on content needs, however, with Netflix now pushing towards more family content, will we see the streaming giant continue to own this space or will it lose occasions as new platform Disney+ establishes itself in the family home?
Our next wave of 'Kids and the Screen' research will be going live next month and answering questions just like these, get in touch with us at [email protected] if you are interested in finding out more for your brand!