Unless you have been hiding under a rock, you will have noticed the increasing popularity of gaming amongst the younger audience.
Gaming has almost doubled over the last couple of years, bringing in new users and a new type of audience, moving from the geeky shadows into the more mainstream arena, capitalising on a shift towards mobile gaming and increasingly diverse genres of play. Time spent gaming has also doubled with 26% of kids aged 8-12 spending over 2 hours a day playing games.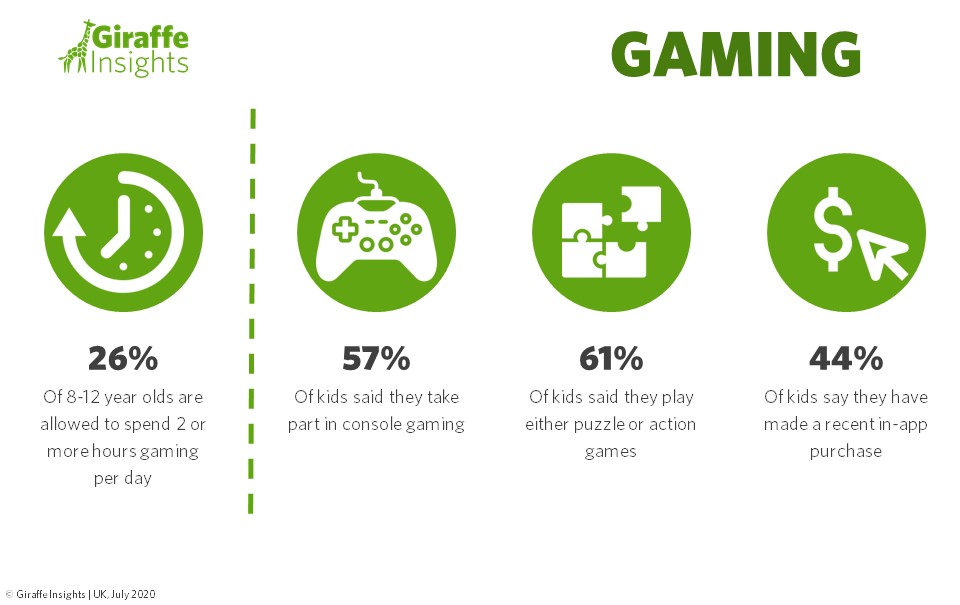 We know that lockdown has increased the need for screen time entertainment, for both gaming and general video content. This is an important shift, as concern surrounding actual gaming screen time has almost doubled since lockdown.
Despite parental concerns significantly increasing, gatekeeper behaviour has remained the same. This concern is not manifesting itself in parental behaviour, as it stands, with gaming restrictions below that of YouTube and TV.
Why? Is it a lack of knowledge? Is it a lack of confidence? Why are parents not laying down the same amount of control and restrictions as they might with the likes of YouTube and DVD's?
In our opinion, gaming will continue to grow… So, is it time to talk?
Understanding true behaviours to unlock opportunity and enable change.
Here at Giraffe Insights we know the importance of separating out the things we say against what we do, particularly amongst the parents and kids' audience. We run two proprietary research projects which cover screen time and leisure activities and when we map on top the attitudes and what parents "think" is happening onto what behaviours are actually occurring we see a very different "truth". Understanding the difference between these two is key to effectively enabling change.
If we use screen time as an example, whilst half of parents say they are applying screen time restrictions during the lockdown period; from a kid's perspective, two thirds are saying they are watching more. When we look at the actual screen time behavior, it also shows a significant increase of screen time, happening throughout the day, highlighting the difference between best intentions and the reality.
This isn't that the parents are lying, they have the best interests at heart, but it comes down to needs. Screen time is utilised to satisfy important needs and even though safety and screen time concern play a part, the use of screen time as an entertainment device wins out.
Whilst we might assume it is the role of the parent to be a gatekeeper and restrict time and filter age appropriate content; in reality, it is the content platforms themselves which have bridged the gap between content and safety, which has led them to success in recent years.
It is not the parents applying restrictions, but the industry itself which has made this the next step and enabled the right sort of change.
The role of the gaming industry.
You might wonder why we are suggesting the gaming industry would want to make it easier to restrict and control (ultimately reduce) the amount of gaming amongst the younger audience.
There is a huge opportunity to tap into a much larger audience and bring them into the gaming world at a much younger age. It is time to think of the bigger picture, the long-term goal. With concern growing, and restrictions not being placed, we are more likely to see an outright ban, with kids not allowed to access gaming platforms altogether if we don't act now.
A quarter of parents have purchased a console game for their child during lockdown, with the same amount of children buying one for themselves. If we get it right, the amount of spend opportunity is huge.
There is a need for a framework of success for parents, allowing easy control over aspects like in app purchases, online access, time restrictions and increasing safe/guilt free content. In a flip of a switch, this would enable parents to make gaming the choice of entertainment, removing gatekeeper barriers and, importantly, some of the mystery which currently surrounds gaming.
Communication and reassurance will be key, educating how this platform can be used for good instead of evil! Providing content which is safe and educational will help offset some of that screen time guilt. There is already a movement towards this, with games incorporating learning into characters e.g. animal educational, strategy games and we see this coming through into video content too, with "edutainment" shows being the fastest growing genre in the past year.
If we take learnings from other sectors, we know the change will not come from the parents but from the providers themselves, those providers that understand the kids/parental market and can understand and adapt the experience.
So, who will be first?!
Understanding your audience.
It is our flagship studies that provide us with the insight that enable us to stay ahead of these changing times, if you would like to find out more about how to be involved then please get in touch.