The 10th May marked the start of Mental Health Awareness Week, and as kids and youth specialists at Giraffe Insights, understanding how mental health affects kids and young people is most certainly on our agenda.
The last year has not been easy for anyone, and undoubtedly has had an impact on our mental health. Being unable to see friends and family, not going to after school clubs, finding it hard to keep up with hobbies and homeschooling have taken a toll on children's mental health. It is predicted that children's mental health incidences have increased by 50% since 2017 in the UK [1]. We look to explore how kids feel about their mental health, what has had the biggest impact and the tools they use to cope.
Speaking to kids aged 2-12 through our proprietary research study, Little Voices, we found that despite recent initiatives to help manage mental health in young people, nearly half of kids were concerned about mental health in today's world [2]. It is not just kids, but 6 in 10 parents of kids aged under 14 also said they felt concerned about the state of their child's wellbeing this month [3.] Children's mental health is a growing topic of concern – but what is currently having the biggest impact?
The impact of lockdown
Studies have found that Covid19 and the subsequent lockdowns have had a detrimental effect on the state of kid's mental wellness. 75% of kids aged 5-16 felt the most recent lockdown has been the hardest to cope with [4]. Feelings of isolation, the inability to see loved ones and educational concerns were the top drivers impacting kids mental wellbeing.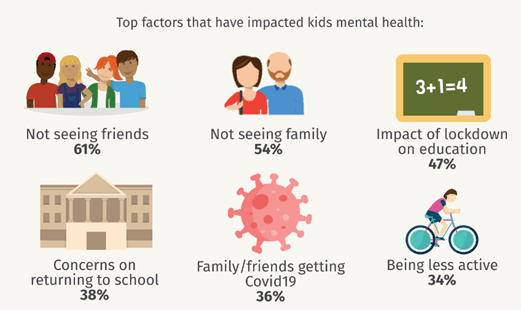 The breakdown of routine and the loss of familiarity can be unsettling for children and cause anxiety; therefore, it is essential kids have the tools they need to manage these feelings.
Familiar favourites help uplift kids
There are grounds for optimism when it comes to the way kids can be uplifted. There are a plethora of tools and resources that specifically cater to children's needs when it comes to wellbeing. However, sometimes it is the little things closer to home that a child needs to help regulate their moods. We found that the most common ways children improve their mood are ultimately the things which the pandemic has not taken away from them [5]. Watching their favourite show or playing with their favourite toys can be that moment of calm and familiarity in the storm. Re-establishing the routine through everyday behaviours can quell anxiety as the world tries to return to normal.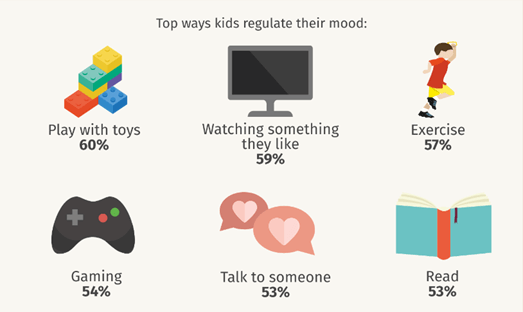 There is only a small proportion of kids using more formal mental health resources, with less than a fifth using apps or additional tools that help with mental wellbeing [6]. It is essential to keep the conversation on mental health going with 4 in 10 kids aged 7-12 still feeling uncomfortable talking about their feelings [7]. Young people have expressed pessimism about the future with 67% believing the pandemic will have a long-term negative effect on their mental health [8].
It is no secret that Covid19 has impacted children's mental health and may continue to do so. However, kids are resilient and 79% hopeful that after all restrictions are lifted and life returns to normal their mental health will improve [9]. In the meantime, it will be fundamental to educate and encourage kids to explore their own wellbeing.
Looking to the future, raising awareness of mental health will be instrumental in the improvement of kid's mental wellbeing and continuing to reduce the stigma that goes along with it. We have come a long way but there is still further we can go for the next generation.
Giraffe Insights are proud supporters of Mental Health Awareness Week 2021.
[1] https://www.thelancet.com/journals/lanpsy/article/PIIS2215-0366(20)30570-8/fulltext
[2] Giraffe Insights Little Voices
[3] Overnight Poll May 2021
[4] https://youngminds.org.uk/about-us/reports/coronavirus-impact-on-young-people-with-mental-health-needs/#covid-19-january-2021-survey
[5] Overnight Poll May 2021
[6] Overnight Poll May 2021
[7] Giraffe Insights Little Voices
[8] https://youngminds.org.uk/about-us/reports/coronavirus-impact-on-young-people-with-mental-health-needs/#covid-19-january-2021-survey
[9] https://youngminds.org.uk/about-us/reports/coronavirus-impact-on-young-people-with-mental-health-needs/#covid-19-january-2021-survey