It seems as though everyone you may speak to; the topic of conversation always loops back around to "I wish I was on holiday right now". The idea of a holiday currently seems very alien to many during this pandemic, but a not-so secret demand is building. For many, holidays are a salvation from regular life and play a part in maintaining a good mental wellbeing and offers a chance for families and close friends to bond. They also offer a chance to step away from the busy day to day and recharge, and once they're over they often remain as some of the fondest memories we have with our favourite people. With a hesitant amber light now being given on going abroad; will families embark on their missed summer holidays this year?
How lockdown has changed the plans of many families
For a lot of families, this is peak holiday time in what would be a school-time summer holiday. This is the time of year that many families have packed their suitcases, booked their tickets and would have set off on a memorable adventure. However, as with everything else in 2020, it has not played out like that.
The state of emergency declared as a result of Coronavirus can be seen all over the world. There is nowhere that is exempt from the panic. Many countries have gone through a travel ban over the past few months where both incomings and outgoings were restricted or in some cases, halted.
Over the last few months of lockdown restrictions have started to ease, giving families hope their holiday plans may still have a chance of going through. However, with the easing lockdown rules, COVID cases have seen an increase across many popular holiday destinations. The most notable country being Spain. For Brits, this is problematic as Spain tops the list of the most visited countries (Figure 1) because it is relatively cheap, the weather and culture are amazing, the food is great and that the travel time is not so long; it is the perfect family summer holiday destination. It is not only Spain that has seen this sharp increase of COVID cases. In reality, France, Italy and Greece have also seen these surges which has made families even more apprehensive of travel. Quarantine rules have also come into effect again for those who do decide to travel to these higher risk locations. For parents this has made many question whether going on holiday right now is the right time for them.. So, what are their options?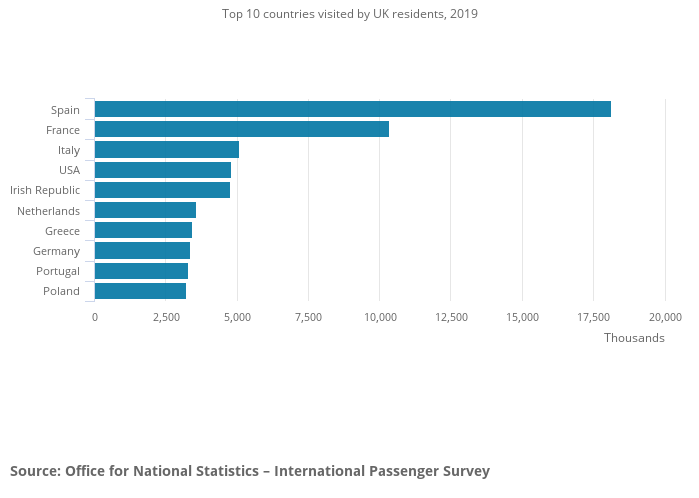 The inevitable demand
Despite the risks associated with going abroad this year, and the 2 week quarantine families may have to face when they return home, some will inevitably go ahead with their holiday plans. Afterall, people are itching for some time away from reality!
Nearer to the start of lockdown, we at Giraffe Insights, spoke to 550 kids and parents through our syndicated study, Little Voices, and got their thoughts on what they would like to do once lockdown is all over. Unsurprisingly, 28% of families said that the first thing they would want to do after lockdown is over is book a holiday. Whereas 40% said they would like to go to the beach, 25% said they would want to take an activity day within the UK (Figure 2). This demand is unlikely to go away even with the looming threat of a second spike in cases.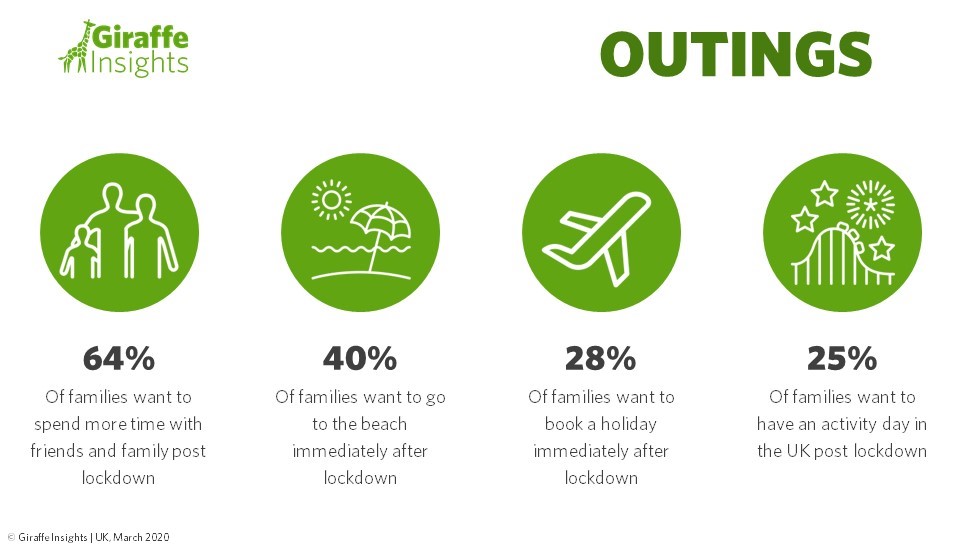 However for the majority, getting their fill of sun, sea and sand, is likely to not be a reality in 2020. The uncertainty surrounding a second wave of the virus as well as the associated health and economic risks simply provides an unstable ground for most families. Although Spain, France and other countries may not be seeing the normal influx of Britons this year, your local getaways may just be…
Domestic holidays have never been as appealing
There is clearly a pent-up demand within the nation, and it will soon reach tipping point.
Domestic holidays and staycations are the biggest holiday trends in the UK. Popular camping sites in Cornwall for example have all been booked up until October at the very earliest and other staycation sites are feeling the same pressure. Day trips and activities are also in high demand, places such as GoApe have similarly been booked off by families in search of holidays. Not only has the availability of domestic holidays decreased, the prices of the remaining locations have skyrocketed to what would have been a holiday across the globe.
For the travel industry it will be important to take into account the hesitation many families will have of travelling abroad immediately after restrictions are lifted, but understand that the demand is there. If the demand does not burst the pipe, expect a trickle of potential holiday goers. Being able to offer a safe, affordable domestic holiday or outing will be key to staying ahead of the curve when demand reaches pre-COVID levels.
Although the holiday market has taken a hit this year, there is one thing we know for certain: 2021 will be THE year to fulfil any lost holiday dreams. Money saved during lockdown is likely to be put towards bigger and better holidays once travel returns to normal. 'Staycations' will return to vacations, with families filling up airport terminals once the green light is given!